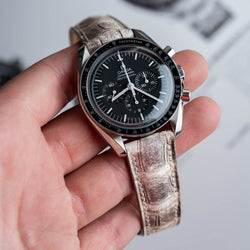 Himalaya Leather Watch Strap
Pearl Himalaya Watch Strap
Himalaya Watch Strap & Grey hand-stitching
The Himalaya Watch Straps are one of the rarest and most exclusive straps in the world. Our goal With Himalaya Straps is to achieve the pinnacle of excellence. We only use the finest materials in the industry and an exquisite craftsmanship.
The Himalaya leathers comes from Niloticus crocodile, an African, not Himalayan crocodile. The designation "Himalaya" does not apply to the origin of the leather, but rather to the uniquely gradation of the color – the pearly white and the smoky grey are meant to evoke the snowy mountains of Himalaya.
The color is what makes it special, especially because white is the hardest color to achieve with crocodile skins. The process of dyeing a crocodile skin is very time-consuming and more difficult as the shades lighten.
Every Himalaya Watch Strap is hand-stitched with a unique technique and every detail of the strap is entirely made by hand.