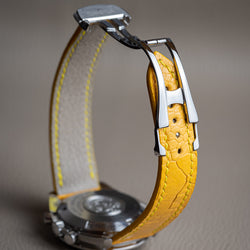 Classic Design - Omega-Style Deployant Yellow Ostrich Leg
Padded Design - Omega-Style Deployant Blue Ostrich Leg Strap
Minimal Stitching Design - Omega-Style Deployant Burgundy Ostrich Leg
Ostrich Leg Omega-Style Deployant Watch Strap
The Ostrich Omega-Style Deployant strap dimensions are custom made, ideal for your Omega Deployant. These straps are specially made to a thickness of 2.5mm-designed to perfectly fit your Omega Deployant.
Every Ostrich strap is as unique as you are. The leather texture is different on each strap.  There is no chance to create two similar Ostrich Leg Watch Straps.
Please note that this particular design only fits with Omega Deployants.
The Omega Deployant it's not included.
For full size images of the leathers and threads, please visit Our Materials page.
If you need help with sizing please visit our Watch Straps Size Guide page.