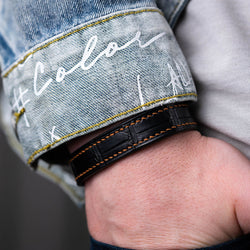 Black Alligator Leather Bracelet
Bespoke Alligator Leather Bracelet
Green alligator leather bracelet & green hand-stitching
Alligator Leather Bracelet
No two Alligator Leather Bracelets are ever the same.  Every Alligator leather bracelet is created from a different part of the alligator skin. The leather texture is unique on every bracelet.
We focus to create the small things unforgettable. The bracelet is hand stitched with a unique technique, and every detail is entirely made by hand.
We only use the finest Alligator leathers in the industry. 
The thread used to sew the Alligator leather bracelet is made of flax and treated with wax to ensure maximum strength and longevity.
We also offer a wide range of lining leathers to choose from.
For full size images of the leathers and threads, please visit Our Materials page.