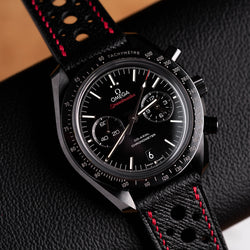 Black Epsom Racing Style 2 Strap
Style 1 - Chestnut Buttero racing strap
Style 1- Chestnut buttero strap
Style 2- Racing Black Goat Leather Strap & Black Stitching
Style 2 - Black goat rally strap
Exemple-Rally Blue Calf Leather-Royal Blue Hand Stitching & Royal Blue Lining
Calf & Goat Racing Watch Straps
There's no better choice of strap to pair with your chronograph. These straps are extremely comfortable, especially in the summer months. As well as looking cool, the perforations considerably increase ventilation, so you'll stay cool by dramatically reducing the amount you sweat. If the racing style appeals to you, you will love our racing design. The design of the holes/cutouts was inspired directly by the perforations present in certain parts of racing cars as a way to reduce weight and also from the driver's racing gloves.
For full size images of the leathers and threads, please visit Our Materials page.
If you need help with sizing please visit our Watch Straps Size Guide page.